Community Engagement To Increase Immunization: What Have We Learnt?
The COVID-19 pandemic put tremendous pressure on health systems, particularly routine immunization for children. While COVID-19 shots reached billions of people in record time, coverage of vaccine shots protecting children from preventable diseases dipped and reached the worst levels since 2009. According to WHO, an estimated 23 million children under the age of one did not receive basic vaccines in 2020.
How do we reverse this fall and increase routine child immunization? This edition of the 3ie Evidence Dialogues focused on what we know about increasing routine immunization of children in low- and middle-income countries through community engagement. The session included a brief presentation of findings, including qualitative and cost-effectiveness findings, from a new systematic review. A panel discussion highlighted how policymakers and health sector specialists can translate these approaches into practice as they catalyze action to ensure all children get all the shots they need.
Panellists:
Lisa Menning, Department of Immunization, Vaccines and Biologicals, WHO
Tove Ryman, Senior Program Officer, Bill & Melinda Gates Foundation;
Monica Jain, Lead Evaluation Specialist,3ie;
Sebastian Martinez, Director, Evaluation, 3ie
Evidence Dialogues: How community engagement interventions can increase routine immunization
Although the COVID-19 pandemic drew plenty of attention to the need for one specific vaccine, the disruptions it caused also exacerbated existing challenges in ensuring all the world's children receive their shots.
"Coverage of routine immunization protection for children from preventable diseases dipped and reached the worst level since 2009. According to the WHO, an estimated 23 million children under the age one did not receive basic vaccinations in 2020. How can we reverse this fall?" said Sebastian Martinez, director of evaluation at 3ie. "One approach focuses on reaching excluded children by engaging with communities."
Immunization experts gathered Thursday for 3ie Evidence Dialogues to discuss the findings and implications of a soon-to-be-released 3ie systematic review on the effects of community engagement interventions on the uptake of routine childhood vaccines.
The virtual event started with a preview of the findings from the review, which synthesizes results from 61 quantitative impact evaluations, 47 qualitative studies, and 69 project reports. The studies were conducted in low- and middle-income countries all over the world, with a majority coming from South Asia and Sub-Saharan Africa.
The analysis found that community engagement interventions had positive effects on the rates at which children received Measles and DPT3 vaccinations, as well as the timeliness of those vaccinations. The strongest evidence of effectiveness, corresponding to the largest number of existing studies, was for interventions with embedded engagement components, such as the creation of new community-based structures like village health committees.
"I think one of the things I find most interesting is, given the breadth of this review, the fact that we were able to see consistent findings across various geographies [and] various baseline coverage levels," said Tove Ryman, senior program officer at the Bill and Melinda Gates Foundation. "The fact that these findings were robust across such diverse contexts was really promising."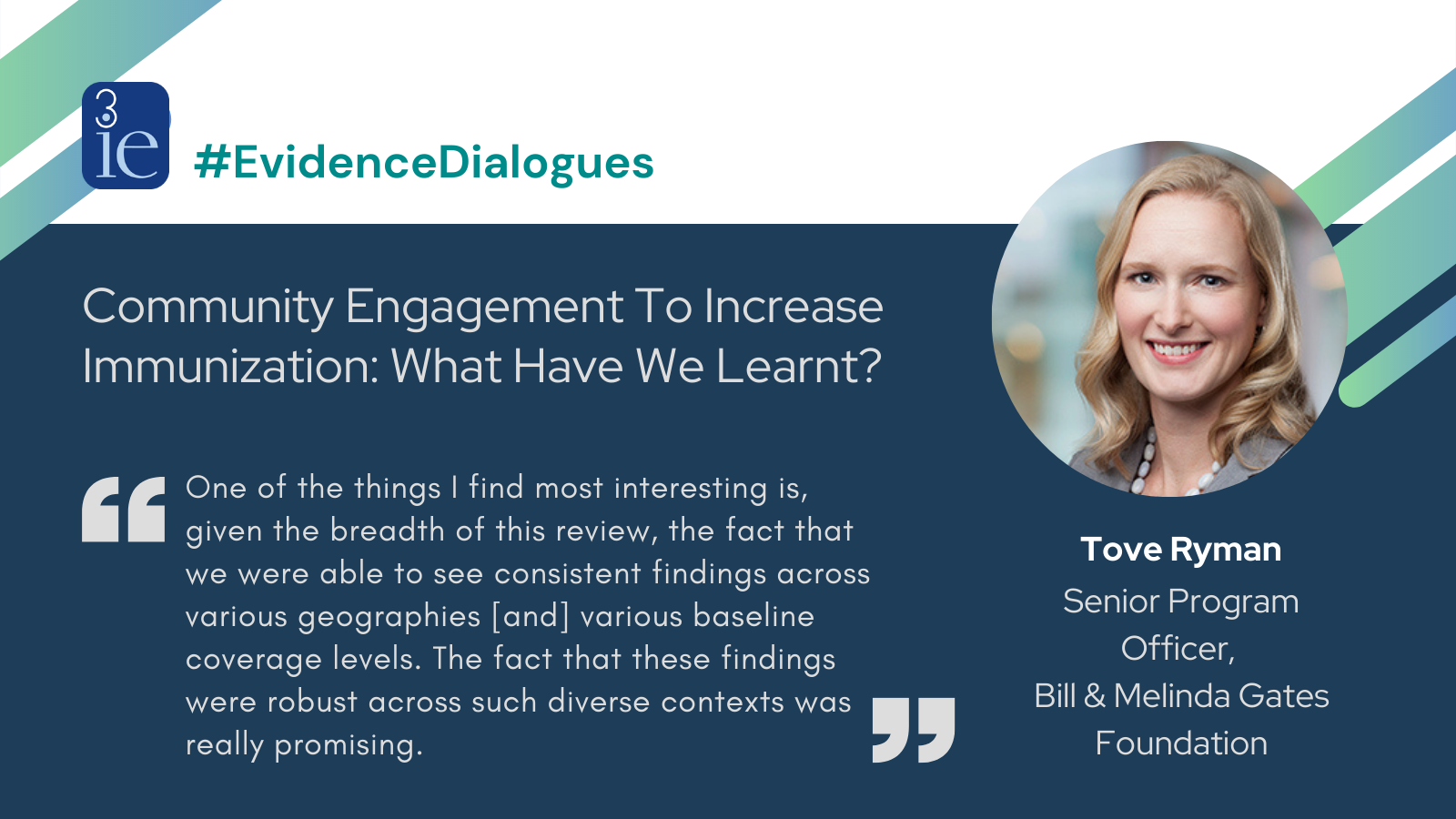 Community engagement was also associated with more successful implementation, the review found.
"We found that community engagement features themselves were associated with intervention success," said Monica Jain, lead evaluation specialist at 3ie. "If the intervention involved holding stakeholder consultations, holding community dialogues, involving community leaders, those features were associated with intervention success."
In contrast, interventions often failed when their planning failed to account for common contextual barriers like transportation costs, logistics, distance, or limited service availability.
Those barriers are not surprising, but they serve as an important reminder that community engagement needs to be part of a holistic view of the sn said.
"[These interventions] can only work if the service delivery is there and able to offer services at the same time," Ryman said.
Attempts to mitigate those barriers can benefit from the insights generated by community engagement activities, said Lisa Menning of the World Health Organization's Department of Immunization, Vaccines and Biologicals.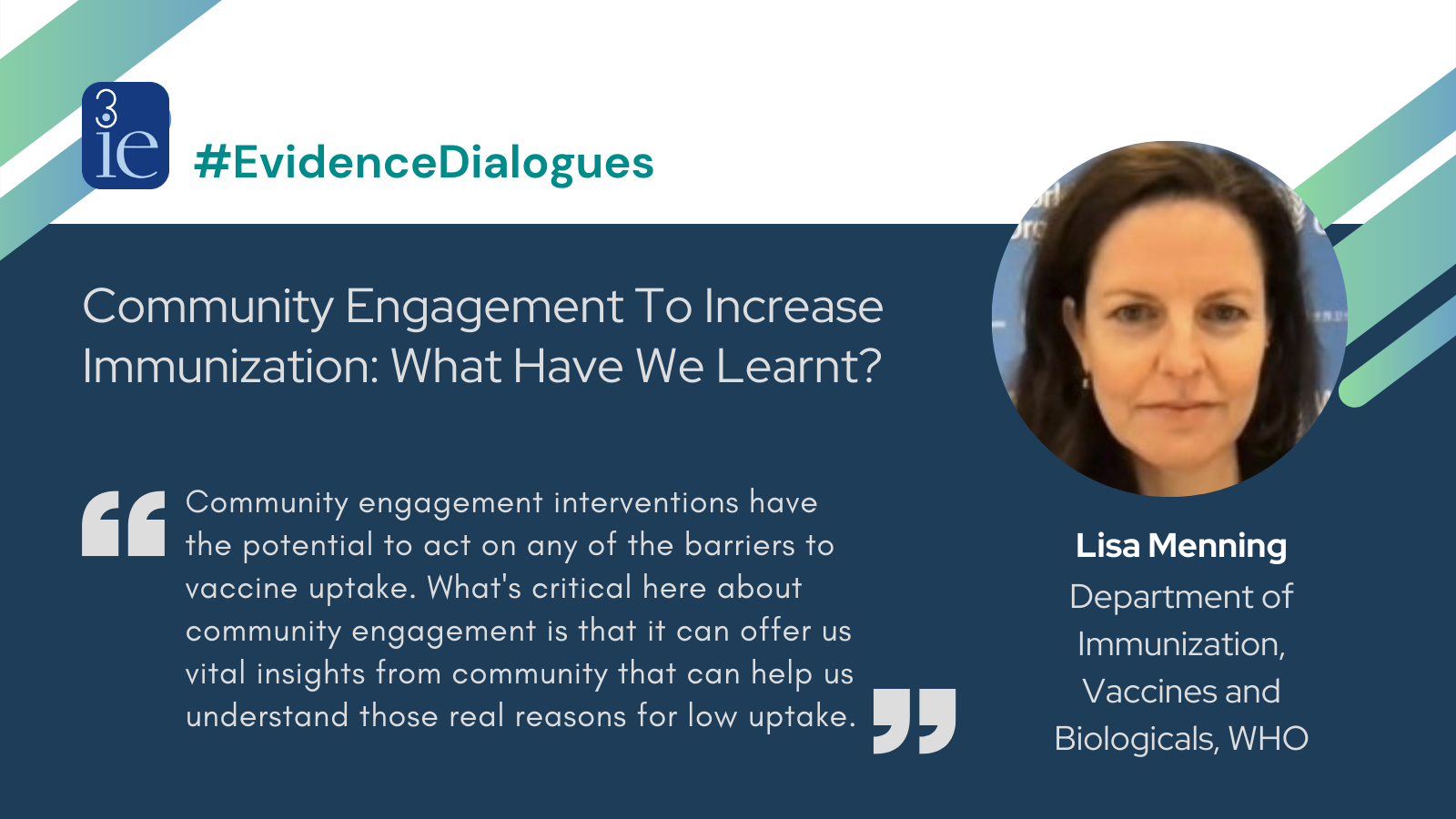 "Community engagement interventions have the potential to act on any of the barriers to vaccine uptake," Menning said. "What's critical here about community engagement is that it can offer us vital insights from community that can help us understand those real reasons for low uptake."
A one-size-fits-all approach has been effective in getting routine immunizations to about 85 percent of children in the world, but reaching the remaining 15 percent requires different approaches, Ryman said.
"The limitations and barriers to be able to reach those last kids are really context specific," Ryman said. "Community engagement is a way to really understand what those barriers are.
" To learn more, watch the full discussion here. For the full systematic review, check back at www.3ieimpact.org in a few weeks.